I. Love. Books.
This is where I like to keep a record of the ones I've read recently.
Influence by Robert Cialdini
Finished: June 24, 2015
Rating: 9/10
Interesting read about various holes in human thinking and how marketers take advantage of those biases. It's good to know these techniques not just for your own use but to avoid falling prey to them.
Elon Musk by Ashlee Vance
Finished: June 4, 2015
Rating: 8/10
This book was fascinating simply because I'm obsessed with Elon. He's almost certainly the best person on the planet at getting sh*t done. I mean he's building a rocket company and an electric car company at the same time. What?? The guy is one of a kind and we finally got some details on his background and harsh upbringing. This book was all you could ask for as a biography on Elon at this point, but he's not even close to being done so I predict it will need a second edition.
The 5 Elements Of Effective Thinking
Finished: May 11, 2015
Rating: 9/10
Simple, but profound ideas about how to think clearly and understand things on a deep level.
The Startup of You
Finished: April 7, 2015
Rating: 8/10 
Fantastic career advice from a man very qualified to give it–LinkedIn Founder, Reid Hoffman. Not only has he started multiple companies, but he's seen the advantage of leveraging professionals networks by building a company around it. This is the best book I've read on career advice, and it's not cookie cutter stuff. It discusses assessing career risks, opening yourself up to serendipity, and building invaluable business relationships.
Making Ideas Happen by Scott Belsky
Finished: December 21, 2014
Rating: 6/10
The premise of this book is solid: "It's not about ideas. It's about making ideas happen." I just found it a bit of a chore to get through it. You can read the first quarter of the book and pick up the important points. However, they are important points. Most of all: have a bias for action and relentlessly push the ball forward everyday.
I Will Teach You To Be Rich by Ramit Sethi


Finished: December 2, 2014
Rating: 7/10
I'm a big fan of Ramit's blog and the hilarious writing that fills up this book. It's not an easy task to turn financial advice into an entertaining read. I think this is a perfect intro to personal finance.
The Essential Wooden by John Wooden & Steve Jamison
Finished: October 6, 2014
Rating: 6/10
The master lays down his wisdom on leadership, team-building, and character. Wooden's a truly inspiring person and my vote for the greatest coach of all time. I found his personal definition of success very enlightening: "Success is peace of mind, which is a direct result of self-satisfaction in knowing you made the effort to do your best to become the best that you are capable of becoming." My big complaint is the way the book is structured into super short sections, which caused it to be choppy and a bit redundant.
Zero To One by Peter Thiel

Finished: October 2, 2014
Rating: 10/10 
This book blew my mind. Peter Thiel is a downright genius. Even if his radical ideas aren't all agreeable, they're certainly thought provoking and inspiring. Everyone should read this book. Immediately. Especially, if you're interested in starting a lasting company. His main argument was on the importance of innovation and the creation of groundbreaking technology to build the future. Otherwise, humanity is in big trouble.
Smartcuts
Finished: September 28, 2014
Rating: 8.5/10
Really enjoyed this book. Couldn't put it down. It's full of counter-intuitive things that successful people to do achieve great accomplishments.
Self-Reliance by Ralph Waldo Emerson
Finished: September 25, 2014
Rating: 6/10 
Some inspiring quotes here, but I find Emerson too grandiose and convoluted at times. I am totally behind the concept of self-reliance as a whole though. Nobody is going to make things happen for you.
The Millionaire Fastlane by MJ Demarco
Finished: September 20, 2014
Rating: 7.5/10 
The title sounds like a complete scam of a book, but it's actually full of very practical insights on how to earn the big bucks by starting a business. Thankfully, this guy wasn't another "guru" who made all of his money from telling people how to get rich instead of doing it.
Paper Tiger by Tom Coyne

Finished: September 9, 2014
Rating: 7/10 
Fascinating 1 year journey of a writer who takes a stab at turning pro in golf. Lessons from a swing guru, tens of thousands of range balls hit, endless physical training sessions, hiring a golf psychologist, the whole nine yards. The world would be a more interesting place if more people tried to do the impossible once in a while.
The Motivation Hacker by Nick Winter
Finished: September 5, 2014
Rating: 8/10
Surprisingly, this short read was really actionable and inspiring. The concept of success spirals and starting small is money. The author simultaneously wrote a book, ran a startup, read 20 books, learned Chinese, increased his bench press, met 100 new people, etc. over a short 3-6 month period. Pretty dope.
Golf Is Not A Game Of Perfect by Bob Rotella
Finished: September 4, 2014 
Rating: 6/10 
This surprisingly helped my game a lot. Most golfers don't realize how much they sabotage themselves out on the course. You're not Tiger Woods. Drop the perfectionist attitude and try a positive thought for a change. Golf is hard enough as it is.
How Will You Measure Your Life by Clayton Christensen
Finished: August 27, 2014
Rating: 6.5/10
Interesting thoughts about work and life through the scope of business theories and frameworks. I appreciate his insight on the need to experiment early in your career before you set out on a deliberately, defined path. Conversely, most people act you like should always have it figured out.
The Last Lecture by Randy Pausch
Finished: August 19, 2014
Rating: 6/10 
A professor at Carnegie Mellon was diagnosed with terminal cancer and had just months to live. He gives his last message and distilled life advice to not just his children, but the rest who care to listen. Great for perspective.
Walden On Wheels

Finished: July 24, 2014
Rating: 5/10
Story of a guy who lived in a van in order to avoid the trappings of college debt. I respect the hustle.
The Big Miss by Hank Haney
Finished: July 15, 2014
Rating: 6/10
As close an account as you're gonna get to the intense, complex, closed-off individual that is Tiger Woods. Arguably the greatest athlete of our generation, as he dominated a sport that is simply hard as hell to play, let alone master.
The 50th Law
Finished: July 5, 2014
Rating: 6/10
All I can say is…50 Cent is a boss. This was mostly about conquering fear and how 50 Cent overcame his obstacles to rise to the top. I feel like Robert Greene's worldview is a little dark, but entertaining and insightful.
Ben Hogan's Five Lessons by Ben Hogan

Finished: July 2, 2014
Rating: 7/10
I have no doubt about Hogan's mastery and knowledge of the golf swing. It's just really hard to learn golf through a book. Private lessons are a better route.
Stumbling on Happiness by Dan Gilbert


Finished: June 22, 2014
Rating: 9.5/10
Eye-opening analysis of people's inability to predict what will make them happy. The biases of the mind mess us up. After 2 years, a lottery winner is not necessarily happier than a handicapped person. Humans have an uncanny ability to adjust and return to their baseline level of contentment. Happiness is a lot more complex than it seems and this book is full of counter intuitive examples. Definitely something to continue to reference.
The Art of Being Unmistakable by Srinivas Rao
Finished: May 7, 2014 
Rating: 5/10 
Short little motivational read. Nothing really that new. However, the author does speak my language. Let's "put a dent in the universe."
Meditations by Marcus Aurelius (Gregory Hays Translations)
Finished: May 5, 2014
Rating: 7.5/10
Very unique look into the life of a true stoic. Yet not just any stoic–Marcus Aurelius, the Roman emperor. I enjoyed his views on the mind and it's power to revoke pain and focus on what is important, which includes fully accepting that which we can't control and ignoring unwarranted critics. However, I think his version of Stoicism is somewhat pessimistic. He views the purpose of life as pursuing virtue, but in my opinion, doesn't leave room for the joys of meaningful relationships, the arts, etc. and even goes as far to seek indifference to music. Come on now, Marcus.
The Everything Store by Brad Stone
Finished: April 6, 2014
Rating: 7.5/10 
Jeff Bezos has done remarkable things with Amazon, but I never knew much about him before reading this book. Little did I know, this guy's a machine built on supreme intelligence, focus, and ridiculous determination. His tendencies reminded a bit of Steve Jobs. I'm a big fan of his emphasis on long-term thinking and constant innovation.
Nikola Tesla by Sean Patrick

Finished: April 1, 2014
Rating: 4/10

Interesting but very vanilla read on the genius of Tesla. Key insight: Edison is a jerk. Oh..and Tesla's a beast. 800 patents. You kidding me?
Mastery by Robert Greene
Finished: March 30, 2014
Rating: 7/10
Very inspiring book following the stories of the greats in history-Ben Franklin, Leonardo, and the gang. The main message is that mastery doesn't come from natural talent, but rather intense, focused work. First step–get curious and notice your unique inclinations. Your differences aren't something to hide, but rather to emphasize. Follow them to greatness.
Ikigai by Sebastian Marshall

Finished: March 16, 2014
Rating: 6/10
By the way Sebastian Marshall writes, he might be the most ambitious person on the planet. That's what I love about him. This is a super honest, bold account of what striving to be great actually looks like. He lays out his successes and failures and what he feels is the best way to reach your full potential. If you need a motivational boost, this is your book for sure.
Models by Mark Manson

Finished: February 26, 2014
Rating: 8/10
A long overdue guide on masculinity and relationships for men in the 21st century. Feminism, nice-guy syndrome, Disney movies, reality TV, and bro-codes have it all messed up. True security comes from honest expression and willingness to be vulnerable.
The Power of Full Engagement by Jim Loehr/Tony Schwartz

Finished: February 26, 2014
Rating: 9/10
This one changes the game on productivity. It's not about time management, but energy management. Building energy comes from pushing past limits and recovering–not constantly pushing until burn out. Physical health is the foundation of it all. Start there.
How To Get Rich by Felix E. Dennis

Finished: February 19, 2014
Rating: 8.5/10
It sounds like another meaningless get-rich-quick guide, but it's not. In fact, Felix Dennis describes it as an "anti-self help book." Unlike other authors claiming to know all the money secrets, Dennis actually IS super rich and not from book sales. He tells like it is and actually makes the argument that you shouldn't try to be rich unless you want to go through hell, and I believe him.
The Power of Less by Leo Babuata
Finished: February 16, 2014
Rating: 7/10
Very, very practical book on getting the most out of your life by simplifying. I know I usually try to do too much to no avail, but Leo preaches the power of focus. One thing at a time. This would be my go to book for habit change.
Growth Hacker Marketing by Ryan Holiday

Finished: January 31, 2014
Rating: 5/10
Small ebook on the new tactics of marketing in this day and age with interesting case studies. Could have been expanded upon, but some good ideas and a paradigm shift from the old, outdated marketing machine.
How To Be Interesting by Jessica Hagy
Finished: January 28, 2013
Rating: 5/10 
Short, little read on the characteristics of interesting people. I'm coming for you Dos Equis man.
The War of Art by Steven Pressfield

Finished: January 27, 2014
Rating: 9/10
Every creative/artist should read this book. BIG INSIGHT: shift your mindset from amateur to pro in regards to your creative work. Treat it like you would your job and show up everyday. Otherwise the Resistance will beat you and you will live the regret of not giving the world your unique gift.
Jab, Jab, Jab Right Hook by Gary Vaynerchuk

Finished: January 15, 2014
Rating: 6/10
Good read for social media. Gary Vee goes through the major social media platforms and gives tested methods for breaking through the noise. Very practical implementation. The key is to consider what the user is looking to get out of each platform.
The Fountainhead by Ayn Rand
Finished: January 8, 2013
Rating: 9.5/10 
Unlike anything I've ever read. Ayn Rand tells an inspirational story for the individual who sticks to his principles and creates what he wants to see in the world. Howard Roark is a beast.
Choose Yourself by James Altucher
Finished: January 1, 2013
Rating: 7.5/10
James Altucher has a really awesome blog so I decided to read his book. Overall, it's an entertaining read about the current state of the economy and argues that self-reliance is the only way to go. I'm a big fan of what he calls "The Daily Practice"–expanding physically, emotionally, mentally, spiritually until success is inevitable. James has probably failed more than 10x the average human so his outrageous stories provide inspiration for experimentation. Ultimately, you have to try things out and see what sticks. 

Life Strategies by Dr. Phil

Finished: November 5, 2013
Rating: 4/10
Straight-forward, but actionable life advice. Key insights include: you treat people how to treat you and acknowledge/accept what is not working in your life or you won't be able to improve it. Kind of common sense though.
Feel The Fear And Do It Anyway by Susan Jeffers
Finished: October 16, 2013
Rating: 5/10
Some useful psychological tactics for battling fear, but got a little too new agey at some points. Basically preaches the only way to truly get over fear is to do what you fear. By accepting your fear and proceeding forward anyway, you will defeat your fear and eventually become comfortable with it.
Swing Your Sword by Mike Leach
Finished: October 4, 2013
Rating: 7/10 
I was flipping through this book at the book store and it looked interesting so I read it. I found it super inspiring that Leach became a head coach with no credentials after graduating law school with a wife and a kid to feed. That's guts. He truly worked his way up from the bottom. I enjoyed the insight into college football coaching and it even made me consider coaching myself. Leach is a little crazy, but the way he does things actually makes a lot of sense once you get past the media perception of him.
A Guide To The Good Life by William B. Irvine
Finished: September 15, 2013 
Rating: 8/10
Really made me realize that happiness comes from within and not external factors. The Stoics were geniuses in their psychological techniques. Two key insights–visualize the loss of your things for gratitude and only focus on what you can control by internalizing goals.
Seeking Wisdom by Peter Bevelin
Finished: September 6, 2013 
Rating: 9/10
Incredible book. Reading it might have doubled the size of my brain. It's challenging to understand some of the concepts in the beginning, but it is an amazing guide for clear thinking and avoiding common errors in human behavior. It's packed full of insights from Charlie Munger, Warren Buffett, and many philosophers. Wow. I'm going to have to go back through this one several times. I probably highlighted 60-70% of the book. That's not an exaggeration.
Developing The Leader Within You by John C. Maxwell
Finished: August 14, 2013
Rating: 6/10
Simple but eye-opening advice on how to become a better leader. The stuff in here is common sense, but it really changed my paradigm. Best quote–"People don't care how much you know until they know how much you care." Leadership starts with building relationships, not being a genius or some expert.
Da Vinci Decoded by Michael J. Gelb
Finished: July 20, 2013
Rating: 3/10
I am obsessed with Leonardo Da Vinci so naturally I was drawn to the spiritual implications of his genius. This first half of this book was really inspiring, but the back end tailed off a little bit and focused more on various spiritual and meditation philosophies of the world. While this tied back to Da Vinci in a way, I felt like it got a little off track. The sections about Leonardo's curiosity and attention to detail were interesting.
The 7 Habits of Highly Effective People by Stephen Covey

Finished: July 7, 2013
Rating: 8/10
This book is a classic. I'm going to have to go back through it multiple times because it's packed with so much wisdom. My biggest takeaway was realizing the importance of defining your values for creating a life of your choosing. Also, the relationship advice is timeless. Much conflict can be avoided with open communication lines.
The Art of Learning by Josh Waitzkin

Finished: July 4, 2013
Rating: 7/10 
Josh Waitzkin's stories are pretty amazing. He goes from Chess Grandmaster and the inspiration for the movie Searching For Bobby Fischer to becoming a World Champion is a martial art called Tai Chi. His attention to detail is incredible. My only complaint is that his learning principles aren't clearly defined for implementation, but rather mentioned in the context of his pursuits in chess and martial arts. It takes a little more effort to apply for practical use, but a good read nonetheless.
Crush It! by Gary Vaynerchuk
Finished: June 27, 2013
Rating: 6/10 
This book is fundamentally pretty basic, but that's what make it intriguing. Gary V's advice is so practical and to the point that I could hear his enthusiastic voice screaming through the pages. It's not unbelievably well-written, but Vaynerchuk puts it all together for you. Probably, the most actionable book I've ever read.
The Power of Habit by Charles Duhigg
Finished: May 19, 2013
Rating: 7/10
I was a little surprised with the content of this book. I expected more specific examples of individual habit change, but Duhigg offers a solid framework for the process of habit formation instead. The bottom line is that habits are powerful and they can be changed if we understand what goes into them. I think a lot of people just assume habits are formed after 21, or 28, or 30 straight days of doing them, but it's more complex than that. It's also easier said than done to go 30 days in a row. There is not perfect formula, but this book is a start for mastering the rituals that make up your life.
Willpower by Roy F. Baumeister and John Tierney
Finished: May 14, 2013 
Rating: 8/10 
Some solid insight on the limited supply of willpower that humans have and how to maximize it. I definitely got some new techniques to keep myself productive. Two concepts in particular that stood out to me: People with good self-control use their willpower to establish habits on the front end. Also, willpower is strongest in the morning and declines throughout the day. No more late study sessions.
Hacking Your Education by Dale J. Stephens
Finished: May 4, 2013
Rating: 6/10 
Cool perspective on the meaning of education. This inspired me to think beyond the limited scope of an average college student. I wouldn't say anything in here is groundbreaking, but it displays a model for the ambitious young person to follow. Made me think long and hard about finishing up this last year of school.
Linchpin by Seth Godin
Finished: April 19, 2013
Rating: 6/10
This is a good book to shake you up and get you thinking. Seth is very observant and makes you see things that subconsciously you knew, but didn't truly realize. Ultimately, it's time for the genius in all of us to rise up and stop accepting the average. Only those who can embrace change and ignore the resistance to be comfortable will thrive in this new society. Really made me excited and eager to bring passion into my career, but not in a new-age self help type of way.
The Education of Millionaires by Michael Ellsberg
Finished: March 16, 2013
Rating: 7/10 
Confirmed what I had started to believe for the past couple years–self education is the answer. This book provokes the question, "Is College worth it?" Considering the yearly rises in college tuition, the answer is increasingly moving towards no. Lifelong learners are the ones who thrive with Ellsberg focusing on three central skills for success: sales, marketing, and leadership.
Never Eat Alone by Keith Ferrazzi
Finished: February 16, 2013 
Rating: 7/10
Some great tactics for connecting with people, and gives you an inside look to what a master networker looks like. Towards the end of the book, I found it to be a little redundant, but I definitely learned some great tips for relationship building. For example, dividing your contacts into lists–professional, personal, and aspirational. Definitely worth the read.
Getting Things Done by David Allen
Finished: February 13, 2013
Rating: 8/10
Very well written and easy to understand. It definitely made an impact on me with several insights. I wasn't sure if I could give a book on productivity such a high rating, but it came pretty close. The thing I love about this book is that it gives some general foundation and purpose behind personal productivity, but it also gives amazing tactical advice and does a great job spelling out the details. Bravo.
So Good They Can't Ignore You by Cal Newport
Finished: January 7, 2013
Rating: 9/10
Very interesting take on the path to a fulfilling and successful career. Cal pretty much debunks the "find your passion" advice that many people throw around, and embraces mastery. I've read two of Cal's other books pertaining to college (i.e. How To Win At College), ann all I can say is the guy's a machine.
Letters To A Young Brother by Hill Harper
Finished: November 2012
Rating: 5/10
Read this after Hill Harper came and spoke at Mizzou. It's more targeted toward the African American youth, but it still applies nonetheless. I was really impressed with this guy. He's intelligent, talented, hard working, and he's got a great attitude. Reminds of a young Will Smith. His message in this book wasn't anything ground breaking, but good reinforcement for a solid mind state.
The Alchemist by Paulo Coelho

Finished: November 2012
Rating: 8/10 
This is one of the few fiction books I've read recently. I bought it because I heard it was Will Smith's favorite book, and I love Will Smith (we have the same personality type.) This story follows a boy who is on a quest to follow his "personal legend," or listen to his heart. It really hit home with me because it resembled the journey to success and happiness, and required the boy go after his dreams while overcoming obstacles in the process.
See You At The Top by Zig Ziglar
Finished: October 2012
Rating: 6/10
This is a good book to start with for building a foundation for a successful life. It's old school, but effective. Key insight: consistently feed your mind with positive information. This will condition yourself for success. R.I.P. Zig.
The 10x Rule by Grant Cardone
Finished: August 2012
Rating: 6/10 
This book is written by a man who is quite possibly the most confident man in the world. Grant Cardone doesn't accept anything below his expectations. He talks about setting monstrous goals and then achieving them by overproducing. This book is extremely motivating, and you can't help but be inspired by Cardone's "can-do" attitude.
The 4-Hour Workweek by Tim Ferriss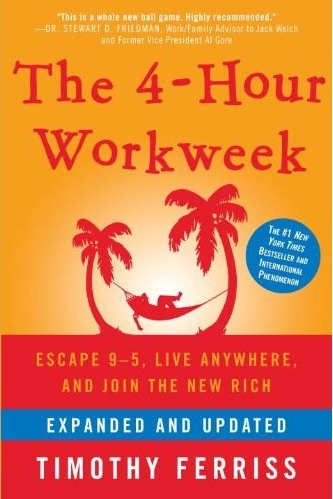 Finished: July 2012
Rating: 9/10 
Tim Ferriss has become a sort of hero for me. He thrives on pushing the limits, and comes to new conclusions every time. His fearless attitude allows him to put other's bucket lists to shame. This book is filled with unique tactics about efficiency, productivity, travel, business, and automation. Some people hate on Tim, but he has no shortage of new ideas. Huge fan of his work.
Steve Jobs by Walter Isaacson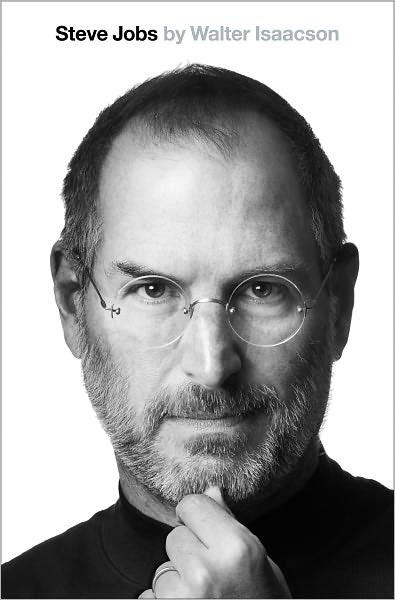 Finished: January 2012
Rating: 9.5/10
This was the first book I read outside of school since Harry Potter. It was over 600 pages!!! But it was fascinating. This book made me obsessed with Steve Jobs and his rare mix of intelligence, leadership, boldness, and enthusiasm. Jobs sometimes gets a bad rap for his management style, but there's no denying this man's impact on our generation. He's absolutely incredible, and I can't believe he died so young. I can't even imagine the things he would have achieved with more time. R.I.P Jobs.